Orange Order to talk if Woodvale march goes ahead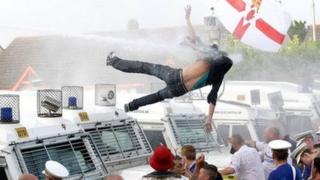 The Orange Order has offered talks with Ardoyne residents to resolve a dispute over a march in north Belfast.
The order also said it is applying to complete the 12th July parade at Woodvale next Saturday.
On 12 July, the Parades Commission blocked the march along a stretch of road separating loyalist and nationalist communities.
Forty-four police officers were injured during three nights of rioting after the march was stopped.
In a statement, the Order said the parade would consist of the three local lodges in Ligoneil and the two bands which were banned from the Crumlin Road by the Parades Commission.
'Moments of tolerance'
It said talks with Ardoyne residents about next year's parades would begin as soon as the lodges and bands return to Ligoneil Orange Hall after the march.
"We believe the time is right to launch this initiative to resolve the present impasse and address the unique situation that the Parades Commission determination created at Woodvale," the statement said.
"We are also conscious that the issue of parades, flags and the past are to be the subject of intensive and ongoing political discussion.
"A few moments of tolerance on a quiet Saturday morning can move the situation forward and create a positive platform, both for the 2014 parades and the Haass talks."