Northern Ireland past 'tougher issue to resolve' - Villiers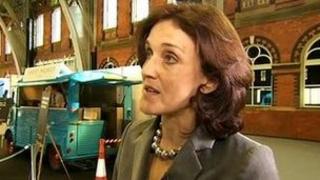 Secretary of State Theresa Villiers has said she believes the issues of flags and parades will be easier to resolve than Northern Ireland's past.
The issues are being addressed as part of the multi-party talks chaired by US diplomat Richard Haass.
The first part of the talks was held earlier this month and they are to resume in October.
Ms Villiers said the issue of the past represented "a whole different order of difficulty".
"I certainly think the issues around flags and parading are more susceptible to building a consensus than is the case with the past," she told the Sunday Politics programme.
"But I think it is well worth pushing forward with ideas and fresh thinking on all of those three issues."
She said Northern Ireland's politicians had previously shown they were capable of resolving extremely difficult problems.
Ms Villiers also dismissed talks of a crisis in the power-sharing executive after claims last week from Sinn Fein leader Gerry Adams and assembly member Gerry Kelly.
"Where you have a mandatory five-party coalition you're going to have times when members of the coalition don't agree with one another - that's a fact of life in any coalition, we know that well in the Conservatives," she said.
"I had a very constructive meeting with Peter (Robinson) and Martin (McGuinness) just a few days ago, there's important work going on, for example in relation to our economic package.
"So it is the case that there is work going on, there is always the need for closer co-operation, more progress and I'll continue to press that case with all the parties in the executive."