Man charged with sex offences in Craigavon faces Lisburn court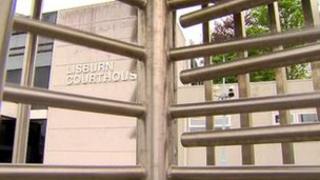 A 57-year-old man has appeared at Lisburn Magistrates Court charged with a series of sexual offences and the false imprisonment of two women.
The offences are alleged to have taken place in the Craigavon area between January 1999 and January of this year.
One of the two alleged victims is said to have mental health difficulties.
The man, whose name cannot be released, faces a total of 15 charges. He has been remanded in custody and will appear in court again next month.
They include five counts of rape, aiding and abetting gang rape, three of sexual assault, two of voyeurism, two of false imprisonment, one indecent assault and a count of human trafficking within the UK.
A detective constable told the court that in the police view, the 57-year-old had exerted "manipulation and control" over the two victims who had suffered years of "domestic and sexual abuse" at his hands.
She said that if released, police feared he would use his influence over them to interfere with the witnesses, one of whom she said was "particularly vulnerable" to intimidation.
'Shock and outrage'
The officer said police had fears over the defendant's own health as he had "refused to eat in police custody" and that if released, such would be the "shock and outrage in the community" that he would be in danger.
Under cross-examination from the man's solicitor, the officer agreed that he had been on bail since January when first charged with false imprisonment and that both women were now "in houses of safety".
She added, however, that it was only last Thursday that the more serious accusations of sex abuse came to light.
The accused's solicitor said his client had been on bail with no breaches, suffered serious health problems and had told police during interviews that anything sexual which occurred had been "consensual".
Refusing the bail application however, District Judge Alan White said he shared police concerns over the potential interference with the witnesses.