London-based developer Gary McCausland buys Belfast site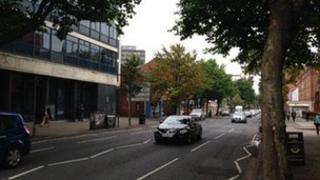 London-based developer Gary McCausland has bought a Belfast city centre development site that was formerly owned by the failed Patton construction group.
Mr McCausland, who is originally from Dungannon, County Tyrone, is planning to develop an apartment scheme on the Dublin Road site.
The site already has planning permissions for either 27 apartments or an eight-storey office block, but Mr McCausland is planning to submit a fresh application.
His concept is for apartments priced at less than £100,000 and pitched at post-graduates.
He said the plans were "still a work in progress" but the target market could be young people who had "moved on from the Holylands", but were not yet in the position to buy a house or three-bedroom apartment.
He said he was looking forward to creating a high-quality building on a site that has been vacant for years.
Mr McCausland said that this was his first significant investment in Belfast and that he was keen to do "plenty more" if the business environment was supportive.
He said that the decision by the University of Ulster to develop its campus in the city centre was a particularly positive factor for Belfast.
The university's £250m scheme, focused on York Street, will house up to 15,000 students and staff currently based at Jordanstown, County Antrim.
It is expected to be completed in 2018.
The Dublin Road site was on the market for £500,000 and Land Registry documents suggest Mr McCausland's Richland Group paid £450,000.
The Richland Group's main focus is on high-end residential developments in London and Paris.