Families want inquest dates set after court ruling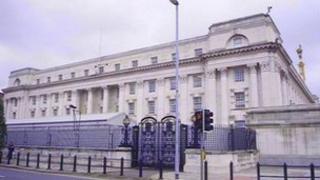 The families of five men killed by either police, soldiers or loyalist paramilitaries, have cleared the first stage in a joint High Court battle over alleged delays in holding inquests.
Leave was granted to seek judicial reviews in all of the cases.
One of the cases is of the first man to be shot dead by the Police Service of Northern Ireland.
Relatives have issued proceedings against the coroner and either the PSNI or Police Ombudsman's Office.
Lawyers for all five families claim their human rights have been breached by the failure to examine the circumstances surrounding each death as soon as possible.
They want a High Court judge to order an immediate date be set for the inquests.
The earliest killing under scrutiny is that of Michael Ryan.
He was one of three IRA men ambushed and shot dead by the SAS in Coagh, County Tyrone, in June 1991.
Shot dead
A car the trio were in was riddled with gunfire and burst into flames. Their bodies were found inside the burnt-out vehicle.
A similar application has been brought on behalf of Catholic man Fergal McCusker.
The 28-year-old was kidnapped and shot dead in Maghera, County Londonderry, by loyalist paramilitaries in January 1998.
Relatives of Neil McConville, 21, the first person killed by the PSNI, are also challenging the inquest situation.
Mr McConville, from Bleary, County Armagh, was shot following a car chase in April 2003.
Officers were following the vehicle being driven by Mr McConville near Lisburn, County Antrim, on the correct suspicion that it was transporting a gun.
Police opened fire amid fears he was about to drive over an officer already knocked down and lying injured directly in his path.
Two further police-related deaths are to be examined as well.
'Critically flawed'
James McMenamin, 29, died after he was knocked down by a PSNI Land Rover on Belfast's Springfield Road in June 2005.
Nearly a year later Steven Colwell, 23, was shot dead by police after he failed to stop at a checkpoint in Ballynahinch, County Down, in April 2006.
A subsequent police ombudsman's report into the incident found the actions of the officer who opened fire to be "critically flawed".
It is claimed in the cases that the state and the coroner breached their obligations to ensure prompt human rights-compliant investigations into the deaths.
In court it was fully accepted that an arguable case has been established in four of the five deaths.