10 injured in multi-vehicle crash in west Belfast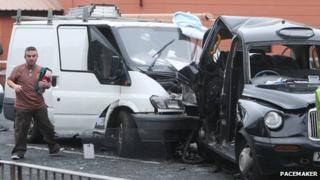 Ten people have been injured, three of them seriously, after a number of vehicles crashed into each other in west Belfast.
At least five vehicles - two of them taxis - were involved in the accident on the Falls Road at its junction with Beechmount Avenue.
Beechmount Avenue has been closed to traffic. Police have advised motorists to avoid the area.
The accident happened at around 10:30 BST on Friday.
Eyewitnesses said a van crashed into the back of a taxi, which then led on to a knock-on collision involving another taxi and a car.
A number of people had to be cut out of vehicles by the emergency services.
Nine people had been taken to hospital. Three of them are being treated for serious injuries.