DUP MLA Robin Newton says employing relatives 'has advantages'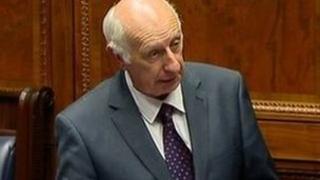 The employment of relatives to carry out work for assembly members has "distinct advantages", a DUP MLA has said.
Robin Newton was speaking after the Belfast Telegraph reported that he was paying his wife and son a total of £60,831 a year.
The paper said he had paid his daughter up to £13,780 for research and secretarial work for 18 months until 2009, when Stormont rules changed to require MLAs to declare payments to family members.
Almost a third of MLAs at Stormont currently employ a family member - that is about the same ratio as the Welsh National Assembly.
Mr Newton told the BBC's Nolan Show he had not interviewed his wife Carol for the job as office manager but she was well-qualified for the role.
"My wife's previous experience and whole career has been based on working as a personal assistant to someone at a fairly senior level in commerce and the running of a small office," he said.
"She's now applying those same skills to the benefit of constituents in east Belfast.
"Carol and I have worked together and it seemed to be a natural progression."
Mr Newton said working as an assembly member is a "24/7 job" and there are also security issues, so employing family members has "distinct advantages".
He said among the "extremely successful" research work carried out by his daughter was a project which "led to an assembly report which is still a live project within the enterprise committee".
'Value'
He said it had come at a low cost compared to the "value that came out of it".
He added: "I have adhered at all stages to the reference terms of the assembly. Where those have changed, I have met those changes. Where they will change, I will meet those changes.
"Openness and transparency in the mind of the public is absolutely crucial for the future confidence in the assembly."
The practice of employing relatives varies between parties - for example, 23 out of 38 DUP MLAs (61%) employ a relative. Sinn Féin and the Green Party do not hire any.
Figures for the other three parties are: SDLP 21%; Alliance 25%; UUP 23%. The Traditional Unionist Voice (TUV) leader Jim Allister employs his daughter.
Pat McCartan, chair of the Independent Financial Review Panel, which sets MLAs' salaries, allowances and pensions, said: "There'll be a formal consultation process on this whole matter next year, all of the expenses, including the employment expenses.
"The employment of people in general by MLAs is a matter of concern for us - their terms and conditions, how they're recruited. All of those issues have somehow been tackled in other legislatures."
He said one option that might be considered would be ensuring that there is open competition for any jobs.