Maze prison peace centre will go ahead says architect Daniel Libeskind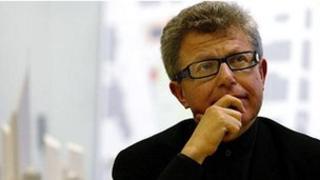 The architect who designed the proposed peace centre at the site of the old Maze prison has told the BBC he is convinced the project will go ahead.
The Maze development was postponed in August after the DUP withdrew its support.
The prison housed paramilitary prisoners during the Troubles from 1971 to 2000. Ten republican prisoners died there on hunger strike in 1981.
Architect Daniel Libeskind said there are always setbacks.
Mr Libeskind was also responsible for the 'Ground Zero' Memorial in Manhattan and the Jewish Holocaust Museum in Berlin.
Speaking about DUP leader Peter Robinson's decision to stall on plans for the site, he said: "I'm certainly not new to projects which have a content which could be considered controversial to people. Bringing peace is not an easy thing.
"I've seen that pause button in every project," he said.
"But in every one of those instances, the building was able to forge a path towards the future."