Daughter of ex-prisoner in plea over jail 'chemical exposure' during childhood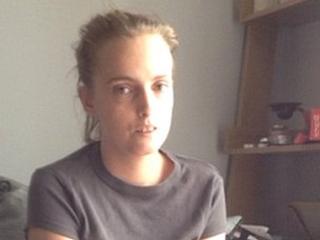 A woman who believes her time as a baby in prison left her with a serious illness has asked the Justice Minister to help pay for her medical care.
Nikki Toland spent the first 18 months of her life in jail because her mother had been convicted over the Droppin' Well pub bombing in County Londonderry.
She claims her condition was caused by exposure to chemicals used to clean cells during "dirty protests".
But the government says the cleaning agents used were household products.
Dirty protests involved mixing urine and excrement and spreading it around the jail. The tactic was used by republican prisoners in the late 1970s and early 1980s. They refused to wash, and grew long beards.
Nikki Toland argues that whilst she was in her mother's womb and later, when she was a baby, she was held in a cell that had been cleaned using heavy chemicals following the dirty protests.
However, the Northern Ireland Office has argued that the cleaners used were household ones and has provided a list of what was used in the cells at that time.
Ms Toland wants the minister, David Ford, to intervene and help her access specialist stem cell treatment in America.
"If he could help it would be brilliant, just to get that recognition - that they stand up and say 'yes, we did the wrong thing, we put a baby into the wrong place' - because I was innocent," she said.
Ms Toland's parents, grandmother and aunt were all jailed in the 1980s for their part in the pub bombing in Ballykelly, County Londonderry, on 6 December 1982.
Seventeen people were killed by the explosion that was carried out by the Irish National Liberation Army (INLA).
Ms Toland's then 19-year-old mother pleaded guilty to manslaughter and was sent to prison.
She was pregnant with Ms Toland at the time and after the birth, she was given the option of keeping the baby with her in jail.
Ms Toland told BBC Radio Foyle that during the 18 months she spent as a baby in her mother's prison cell, she believes she was exposed to cleaning chemicals that led to her developing systemic sclerosis.
She was diagnosed with the auto-immune condition when she was 11 and said that since then she has been "constantly in and out of hospital".
Now in her late 20s, Ms Toland said her everyday life is a struggle.
"It affects all your organs - your heart, your liver, your lungs, your skin. It also affects your muscles and your bones."
"When I was 11 and I was diagnosed, the doctors specifically asked my mummy did she ever do drugs. Obviously she hadn't, but they also said it could be caused by chemical exposure.
"So my mum explained what had happened and where I was when I was born, and they said 'well, that's a possibility'. So we have been trying to prove this for the last 16, 17 years."
She said her mother feels very guilty for opting to keep her in her cell after the birth, believing that "it's her fault for me being sick".
But, as first reported in the Irish News, Ms Toland believes that the prison authorities were to blame.
"It was their fault. They should have had a baby and mother unit, they shouldn't have put a pregnant woman in a fumigated cell. They shouldn't have put a baby in a cell that was fumigated, it just doesn't make any sense."
When asked by the BBC why she did not blame her mother for the situation, given that she had admitted manslaughter after the terrorist attack, Ms Toland said she believed her mother was innocent of the crime.
She said her mother was "just in the wrong place at the wrong time" and was not aware she was with someone who was carrying a bomb.
"She was just a dizzy 19-year-old as we all are at that age, and she was in love," Ms Toland said.
"They told her that if she didn't plead guilty to manslaughter that she would be done for murder. That was facing more time in prison and she just wasn't willing to take that chance.
"She didn't deserve to do the years that she did - in my eyes anyway she didn't - and I don't deserve to be sitting here today fighting for my life because of it."
Ms Toland said the Northern Ireland Office had provided her legal team with a list of the chemicals used to clean cells during the period she spent in prison as a baby. That list contained only household cleaning products.
She said her solicitor felt they had now exhausted the legal process and so she was making a final appeal to the Northern Ireland Justice Minister, David Ford.