Architect Daniel Libeskind says Maze peace centre will go ahead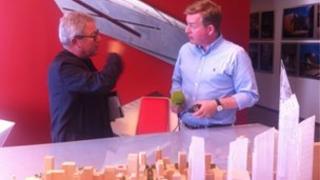 The architect who designed the peace building and reconciliation centre on the site of the former Maze Prison has said he is convinced the scheme will go ahead.
In August, First Minister Peter Robinson sent a letter to his party members announcing that he was halting the project.
He said there needed to be a broad consensus on how it would operate and what it would contain - and that is currently absent, in his view.
But the New York-based architect Daniel Libeskind believes Mr Robinson's intervention is simply part of the process.
Mr Libeskind masterminded the Ground Zero project in New York and the Jewish Holocaust Museum in Berlin.
"I've seen that pause button in every project," he said.
"I think that every building (I've worked on) had a similar process; initial impetus then: 'How do we get consensus? How do we bring people together?'
"But in every one of those instances the building was able to forge a path towards the future. So I think it will happen. I think that people will understand that it's not a shrine to terrorism. I have full confidence that it will happen."
The DUP's Jeffrey Donaldson suggested many people in Northern Ireland felt the site was not the proper place for a peace centre because of its association with the past and because of its retained buildings.
"I think that if those buildings had been removed from the site, and we were looking at a green field I think people could have lived with that but not with the retained buildings on the site, and I think that in essence has been the problem here," he said.
I travelled to Studio Daniel Libeskind in downtown Manhattan to speak to the architect about his hopes as part of my forthcoming Radio Ulster documentary, Building on the Past.
The centre is part of a £300m site redevelopment, but the DUP had been criticised for supporting it.
In his letter of last month, Mr Robinson ruled out any public use of the retained buildings - the one existing H-Block, where paramilitaries were held - and the hospital where Bobby Sands and other republican hunger strikers died.
He also said the prospects for building any peace centre at the site near Lisburn must be linked to building a wider consensus, and cannot just be about securing support from within the DUP and Sinn Féin.
The Maze/Long Kesh Development Corporation has promised 5,000 permanent jobs on the site and the peace centre was seen as the key to unlocking the full jobs and economic potential of the wider 347-acre site near Lisburn.
Over the years, the scheme to redevelop the former prison site has been controversial.
The Maze housed paramilitary prisoners during the Troubles from 1971 to 2000. Ten republican prisoners died on hunger strike there.
But Daniel Libeskind told me that those who believed the site would glorify terrorists had got it wrong.
'It's a complete falsehood. I was born in Poland, my parents were Holocaust survivors. I was born in a Communist country and dreaded going to school there," he said.
"How can I, who embrace democracy and open society, be involved in something as evil as celebrating terrorism? Who in their right mind would do that? I would never be involved in this project if I did not consider it something important - to bring people to Belfast to that site."
'Building on the Past' will be broadcast on Radio Ulster on Sunday at 13:30 BST.