Fermanagh land row: Allister releases letter from solicitor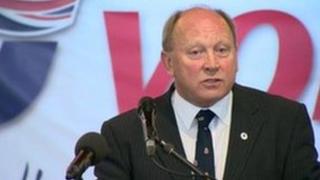 The TUV leader Jim Allister has released a letter from a solicitor administering a Fermanagh estate.
The estate was at the centre of angry exchanges in the assembly earlier this week.
Peter Robinson said that while the TUV leader chided the DUP for doing business with republicans he was the "executor of a will...selling land to republicans in County Fermanagh to benefit his own family".
Mr Allister denied the claims.
He said he was neither an executor nor a beneficiary of the will and described Mr Robinson's claim as a "malicious falsehood".
In the letter released on Thursday, Lisnaskea solicitor Neil Ferguson said that Mr Allister was not an executor nor a beneficiary of the will in question.
Mr Ferguson said Mr Allister had "not been involved in any way in the disposal of any assets" of the estate.
The letter goes on to say that the Enterprise Minister Arlene Foster, who was then a working solicitor, witnessed the will.
It says the will specified that the executor should sell all the property involved including a dwelling house and farm.
In Thursday's Impartial Reporter newspaper, Arlene Foster is quoted as confirming she was the solicitor who made the will.
According to the paper, Mrs Foster denies having told Peter Robinson about the matter, saying if she had been the first minister's source of information she would have told him correctly who the executor was.