Liam Adams gives evidence about his brother Gerry Adams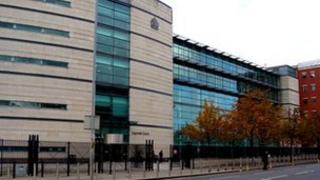 A younger brother of Gerry Adams has been giving evidence in his own defence to charges of raping and assaulting his daughter.
Liam Adams, 58, from Bernagh Drive, Belfast denies committing ten offences against his daughter Áine.
In the witness box he strongly denied all the allegations against him.
He told the court he had been confronted about - and had denied the abuse allegations - by Gerry Adams, his daughter and ex-wife in 1987.
He was asked why he had initially denied that meeting in County Donegal had happened when interviewed by the police in 2007.
He said he had ignored legal advice at the time to tell the truth about that meeting because of the way he had been brought up.
"It was drummed into me by my father," he said
"You don't talk about Gerry in the barracks, to the soldiers at the time, to the police, even in social gatherings as you got older.
"You didn't talk about Gerry Adams full stop."
Liam Adams further claimed that he revealed to solicitor Philip Breen that the meeting in Buncrana had taken place.
Mr Adams told his lawyer that Mr Breen had an "angry" tone in his voice when he refused the advice to go and tell the police, adding in "hindsight, I should have gone" to the police.
He recounted in court how for around 20 years he had worked as a community youth worker, engaging with young teenagers at youth clubs doing drug awareness and computer courses as well as taking cross community groups of young people on residential weekends.
Asked by a defence lawyer if there was ever any complaint made about his behaviour either to him or the police, Mr Adams said there had not been a single one.
Under cross-examination, Liam Adams described how "devastated would not be the word" for how he felt when he heard of his daughter's claims.
Agreeing with the barrister's suggestion that he had a "normal father daughter relationship" when Áine was growing up, he refuted the further suggestion that she was telling the truth.
"No I have told the truth," claimed Mr Adams.
The prosecution barrister suggested Liam Adams had lied consistently to distance himself from the allegations.
He denied this and described the allegations as "absolute rubbish".
Mr Adams was asked about evidence given by Áine's younger sister Sinead to the court that he had confessed to the abuse.
He again described the allegation as "absolute rubbish".
The trial continues.