Portaferry's Exploris aquarium: Councillors defer closure decision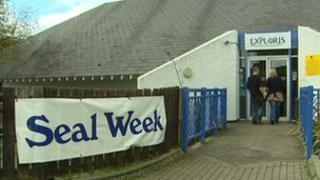 A council decision on whether or not one of Northern Ireland's top tourist attractions should be closed has been deferred for two months.
Exploris aquarium in Portaferry, County Down, has been threatened with closure due to concerns over its running costs.
On Wednesday, Ards Borough Council was expected to vote on a recommendation to shut the aquarium and sell it on.
But they voted instead to delay their decision, amid hopes that funding could be secured from the Stormont Executive.
The deferral motion was proposed by the DUP and it received unanimous support from other elected representatives.
In a statement, Ards Borough Council said the closure "would be stayed for two months, to allow for firm proposals for alternative funding to come from central government departments - Culture, Arts and Leisure (DCAL), Environment (DoE) and Education (DE)".
Deputy Mayor Philip Smith said: "While there has never been any indication of a subvention for Exploris from central government, there does now appear to be a possibility that funding could be made available.
"Our decision allows time for that option to be explored. However, we do have to emphasise that the decision to close still stands if external funding is not forthcoming."
'Community support'
Ahead of the meeting, more than 100 people had gathered outside the council's headquarters on Wednesday evening, to protest at the proposed closure.
The protest was supported by members of the Northern Ireland Public Service Alliance (NIPSA) trade union, which had also called for the decision to be deferred.
Eighteen people are currently employed on permanent contracts at Exploris.
Antoinette McMillen from NIPSA said her trade union believed that "a public campaign has the potential to secure adequate regional funding from Northern Ireland central government departments and, as a consequence, secure the long term future of this extremely important facility for not only the Ards Peninsula but for the whole of Northern Ireland".
"Time is needed to build political and community support for Exploris and we think that Ards Council should welcome the interest and widespread support that has been expressed throughout the community for the retention for Exploris as a public facility," she added.
'Anoraks'
However, not everyone in the area is supportive of the campaign to retain the tourist attraction on the shore of Strangford Lough.
David McNarry, the United Kingdom Independence Party MLA for Strangford, has described Exploris as "a fancy play thing for anoraks".
In a recent interview in the Newsletter, Mr McNarry said: "Once seen is usually enough. It's in the back end of nowhere."
It currently costs ratepayers £600,000 per year to maintain the marine conservation facility on the shore of Strangford Lough.
The council had been trying to find ways to "reduce the financial burden" on ratepayers and it sought private sector involvement.
The private firm, Livingstone Leisure, submitted a successful bid to take over the aquarium and surrounding parkland on a 25-year lease.
However, the deal fell through earlier this month after the firm failed to reach agreement on staff pension provision.
Last week, the council's development committee agreed to a recommendation that the aquarium should be closed and sold.