Edwin Poots announces independent child sex exploitation inquiry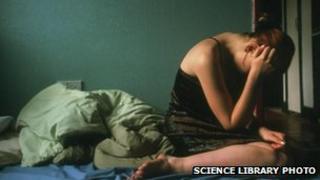 Health Minister Edwin Poots has announced an independent, expert-led inquiry into child sexual exploitation in Northern Ireland.
The announcement comes after more than 30 people have been arrested as part of a major investigation into the sexual exploitation of children and young people.
A group of 22 young people aged between 13 and 18 may have been abused.
Mr Poots's announcement was made in a written statement to the assembly.
The majority of the children involved were abused when they went missing from care homes but it is understood some of the victims were living at home with their families and were abused when they left their homes.
A number of people have already appeared in court charged with sexual exploitation and other offences.
'Effective system'
Mr Poots said: "The minister of justice and I are setting up an independent, expert-led inquiry into child sexual exploitation in Northern Ireland.
"While the police have indicated that this investigation began with a focus on a number of young people from care, they have clearly indicated that this is an issue affecting the lives of many more children living at home in the community.
"This is supported by evidence in the Barnardo's report Not A World Away, and from other studies across the UK.
"Working with vulnerable children is undoubtedly one of the most challenging jobs there is and I am committed to supporting staff in undertaking this work, particularly those working with children who, for whatever reason, are in our care.
"I want to ensure that we have the most effective system of care in place that will provide young people with the stability and security they need and I will consider any changes that may be necessary to achieve this, including legislation if required.
'Specific concerns'
"I have directed the Safeguarding Board for Northern Ireland to undertake a thematic review of the cases that triggered the ongoing police investigation in order to identify the learning from the management of those cases to both inform and improve future practice."
Mr Poots added: "The remit is wide-ranging and not confined to children in the care system.
"It is intended to address both broad concerns regarding child sexual exploitation and current responses to it as well as specific concerns about the protection of children in care."
In a statement, the Safeguarding Board for Northern Ireland (SBNI) said it was "committed to undertaking this review as quickly and as comprehensively as possible", while taking the ongoing criminal investigation into account.
Its chairman, Hugh Connor, said, "The members of the SBNI are committed to doing all in their power to protect children and young people and identify perpetrators.
"In conducting this review I believe it is important that we take every opportunity to hear from the young people who are victims of this abuse."
"SBNI will now move to establish the terms of reference so that progress can be made.