Devolving DVA functions 'a possibility': Simon Hamilton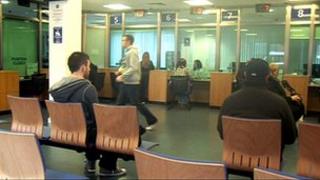 Finance Minister Simon Hamilton has said devolving the functions of the Driver and Vehicle Agency (DVA) to Northern Ireland is a possibility.
But he told Stormont's finance committee on Wednesday that it would involve significant costs.
The assembly had voted unanimously on Tuesday to oppose a proposal to transfer work carried out in Coleraine, County Londonderry, to Swansea.
There are fears NI could lose 300 jobs as part of the centralisation moves.
In his first appearance before the committee as minister, Mr Hamilton said that these powers were transferred to Northern Ireland and Westminster's Department for Transport could take them back.
Modernising
Committee chairman Daithí McKay said it was "scandalous" that Westminster was "essentially going over and above the heads of Northern Ireland Executive ministers with proposals to take jobs away".
"Will you consider putting together a case to bring DVA functions, and the public sector staff this will affect, under the remit of the executive so we can save these jobs?" he asked the minister.
Mr Hamilton said he had sympathy for those who would be affected but said he also understood the need for modernising and integrating services.
"You are caught between the position of wanting to absolutely look after and protect the staff in Coleraine with the other corresponding demand for having the ability for everyone to renew their tax online," he added.
Mr Hamilton said he would raise the matter with Environment Minister Mark H Durkan.
About 100 people, including representatives from political parties, attended a meeting in Coleraine earlier this month to discuss the threat to jobs.
The union, Nipsa, said as well as the jobs threat, the Coleraine closure would impact on efficiency.