PPS will not not seek review of Neil Hyde's sentence over Martin O'Hagan murder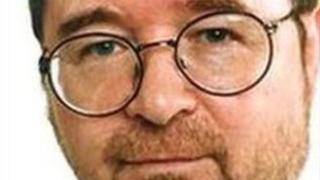 A supergrass who got a heavily reduced jail sentence for agreeing to testify against men accused of a journalist's murder will not have his deal revoked.
The Public Prosecution Service (PPS) is no longer going to seek a review of Neil Hyde's sentence, even though he was accused of lying during the case.
Hyde's 18-year jail term for his part in the killing of Martin O'Hagan was reduced to three years, after he agreed to enter an 'assisting offender' deal.
Mr O'Hagan was shot dead in 2001.
Loyalist paramilitary
The Sunday World newspaper reporter was killed in Lurgan, County Armagh, as he walked home with his wife.
Hyde, a self-confessed member of the Loyalist Volunteer Force (LVF) paramilitary group, was originally charged with the murder.
He later admitted having a role in the killing and offered to give evidence against eight other men he said were involved.
He pleaded guilty to 48 offences and, in return for agreeing to tell the truth, he was offered a reduced prison sentence.
However, in January this year, the PPS said the evidence he had provided was not enough to secure convictions for the murder.
Six months later, the PPS said it wanted the court to review Hyde's reduced sentence on the basis he had breached his assisting offender agreement, amid allegations that he did not tell the "full truth".
But in a statement on Wednesday, the PPS confirmed it was withdrawing its challenge to Hyde's three-year jail term, saying it was no longer in a position to ask a court to review the sentence.
Police Ombudsman
The statement said: "Following further examination of the evidence previously made available by police, extensive police enquiries and PPS consultation with the relevant witness, it is considered that the evidence which is now available is not sufficient to establish a breach of the agreement by Neil Hyde to the requisite standard.
"Accordingly there is no longer a basis to refer the matter to the court.
"The court has therefore been informed that the PPS no longer seeks the review of the sentence.
"The director of the PPS now intends to exercise his power under section 55 (4A) of the Police (Northern Ireland) Act 1998 to refer the matter to the Police Ombudsman for investigation."
Hyde had originally been given an 18-year sentence in 2012 for conspiring to carry a firearm with intent to wound and other offences.
However, his sentence was reduced by 75% because of his co-operation under the Serious Organised Crime and Police Act 2005.
He was given a further reduction for his guilty pleas resulting in the sentence of three years.