Nama sells Coleraine housing site for £600,000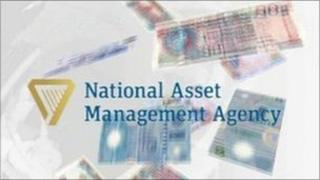 The Irish government's National Asset Management Agency (Nama) has sold a housing site in Coleraine, County Londonderry, for £600,000.
Nama had repossessed the site on the Greenhall Highway from the developer Mervyn McAlister.
It has been sold to Portadown-based housebuilders Hilmark Homes.
The site has planning permission for 53 houses and the new owners have filed a fresh application to build an initial phase of seven homes.
Ashley Elliott, from Hilmark Homes, said the firm had confidence in the location, describing Coleraine as a "good town".
He added that the planning application was for a change of house type, reflecting changes in the market.
Last week First Minister Peter Robinson criticised Nama, saying it was inhibiting economic growth in Northern Ireland by not selling property promptly.
Nama controls around £1bn of property loans originally made by Dublin-based banks to Northern Ireland customers.
Mr Robinson said the agency had on occasions helped to protect jobs and investment.
However, he added that its policy of holding on to properties for the long term "does little to boost our economy right now".