Silence over use of northern scenes on new Irish passports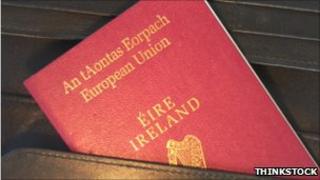 Irish officials have refused to be drawn on whether Northern Ireland's most famous tourist attraction will feature on a new-look Irish passport.
Some Irish landmarks, like the Cliffs of Moher and the Rock of Cashel, will be depicted as watermarks.
However it is not yet known if landscapes from Northern Ireland, such as the Giant's Causeway, will appear.
The Irish Department of Foreign Affairs would not say if any images from the north will be on the new document.
The department commissioned the landscape pictures and images that reflected aspects of culture and heritage.
Irish Foreign Affairs Minister Eamon Gilmore will unveil the new passports on Monday and they will come into official use in October.
Security
Among the featured landmarks is the Samuel Beckett bridge across the river Liffey in Dublin.
Some images under consideration included native trees, cultural monuments such as round towers and images representing the four provinces of Ireland: Ulster, Munster, Leinster and Connacht.
It is understood there was some discussion within the Department of Foreign Affairs about including images from Northern Ireland, since citizens from the north can opt for an Irish passport.
The department would not make any comment ahead of the official launch.
The new passport will also have increased security features.