Bloody Sunday troops not yet questioned in murder investigation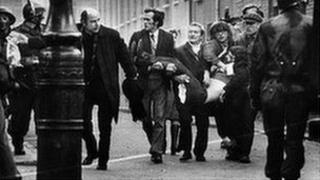 Soldiers involved in Bloody Sunday have not yet been questioned by police, despite officers launching a murder inquiry 14 months ago.
The families of some of the 14 people who died in the 1972 shootings said police have informed them that no troops have been interviewed to date.
The relatives said they were given the information during a meeting with the detectives who are leading the inquiry.
The shootings took place during a civil rights march in Londonderry.
Thirteen civilians were killed on Sunday, 30 January 1972, while the 14th victim died from his wounds five months later.
In 2010, the Saville Inquiry into Bloody Sunday was heavily critical of the Army, finding that soldiers fired the first shot, without issuing a warning.
The report also found that all of those who were killed were unarmed. Some of them were clearly fleeing or going to the assistance of others who were dying, Lord Saville said.
Kate Nash, whose 19-year-old brother William was shot dead on Bloody Sunday, said families are "chasing their own tails".
"They don't really seem to have intent to prosecute soldiers," she said.
"They started off telling us that they were going to interview 2,500 witnesses. Everything is being done back to front.
"This is not how the police service works. Usually they go and interview a suspect."
The Police Service of Northern Ireland confirmed they were launching a murder investigation last July, after police officers and staff from the Public Prosecution Service reviewed the findings of the Saville Inquiry.
At the time, the police said they expected the murder investigation to take at least four years and involve a team of 30 detectives.