Stuart Allan to investigate Gerry Kelly Castlederg remarks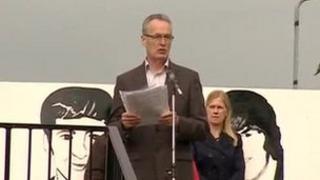 An ethics commissioner from Scotland is to be appointed to investigate complaints that a Sinn Féin assembly member glorified terrorism.
Unionists allege that Gerry Kelly's language in a speech at a republican commemoration in Castlederg in August broke Stormont's code of conduct.
Scotland's Commissioner for Ethical Standards in Public Life Stuart Allan will investigate the issue.
His appointment was agreed by assembly members on Tuesday.
Permanent assembly standards commissioner Douglas Bain has decided he cannot intervene because his membership of the Parades Commission, which adjudicates on contentious marches like the one in Castlederg, would lead to concerns about his impartiality.
Mr Allan is to be appointed as an acting commissioner for standards.
Dead bombers
Mr Kelly was addressing a demonstration marking the deaths of republicans, including two IRA bombers killed by their own device near the County Tyrone town, when he made the controversial remarks.
He said: "They were ordinary young men in the extraordinary circumstances of the early 1970s who rose to the challenge of the time. They had a vision of equality and freedom and they knew the risks they were taking to achieve it but they could not stand idly by or leave it to others.
"It is a harsh reality of resistance that we lose some of our best activists during armed conflict and Seamus (Harvey) and Gerard (McGlynn) along with their other comrades whom we remember here today, paid with their lives."
Earlier this month he defended his comments, but unionists said they could encourage dissident republicans to carry out further acts of terrorism.
DUP North Belfast MLA, Nelson McCausland, said the speech was "a eulogy, a praising of those who died on that occasion when they set out to destroy or murder but ended up dying themselves".
"Dissident republicans will see this as validation and as justification for the things that they are doing now."