Michael Paul McGrath bailed on 'air rage' charges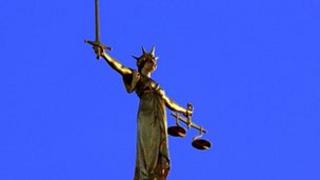 A County Armagh man has appeared in court on "air rage" charges.
Michael Paul McGrath, 20, from Rectory Park in Lurgan, faces charges of behaving in a threatening, abusive, insulting or disorderly manner on an aircraft, being drunk on a plane and of assaulting cabin crew.
It is understood that 45 minutes into a flight from Turkey, Mr McGrath was handcuffed and restrained.
He was bailed to appear again in court on 8 October.
Appearing in Antrim Magistrates' Court in a blue track suit top and jeans, Mr McGrath spoke only to confirm that he understood the charges against him.
Two passengers on the flight restrained him at 20,000 ft using handcuffs supplied by air hostesses.
Police and a paramedic crew were waiting when the flight landed at Belfast International Airport at Aldergrove in County Antrim.
On board, the man was found to be unconscious and was treated by a paramedic team before being arrested by police.
The chartered flight was being operated by Thomas Cook Airlines.