Government rejects Coaker's 'semi-detached' claim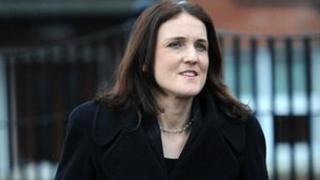 The Conservative Party has rejected Labour claims that the Secretary of State Theresa Villiers is taking "a semi-detached approach" to tackling serious issues in Northern Ireland.
A spokesman said: "The government remains fully engaged with, and supportive of the process."
Shadow secretary of state Vernon Coaker made the claim at the Labour Party conference in Brighton on Monday.
Mr Coaker's comments were also criticised by the NI Conservatives.
A spokesman for Ms Villiers said: "Vernon Coaker clearly seems to have some difficulty understanding that the (Richard) Haass group is an all-party group of the executive set up by the first and deputy first ministers.
"It's right that local politicians start to take ownership of the issues it is considering. Yet the government remains fully engaged with and supportive of the process."
He added: "In the past fortnight alone, the secretary of state has met each of the NI political parties, the Irish government and Richard Haass and his team to discuss all of these matters. Any criticism from Labour that we are disengaged is wholly unjustified."
Mr Coaker had said: "I'm worried that David Cameron and Theresa Villiers don't understand what needs to happen to resolve some of these critical issues. I'm worried that, with their semi-detached approach, they are taking what we have for granted."
Northern Ireland Conservatives' co-chair, Trevor Ringland, said Mr Coaker's remarks were "lacking all credibility".
Mr Ringland said: "Vernon Coaker has a cheek criticising the government's approach to Northern Ireland, when his party refuses to enter electoral politics here."
He added that his party was the "only national party which is committed to standing candidates in forthcoming elections in this part of the UK", and encouraged the Labour Party to stand candidates in Northern Ireland in future elections.