Castlerock man Leon McCarron tells of Gobi Desert trek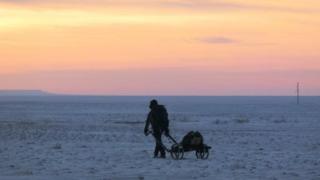 An explorer from Castlerock, County Londonderry, who spent six months walking from the Gobi Desert in Mongolia to Hong Kong, has been telling of his experiences.
Leon McCarron, 27, covered 3,000 miles on his trip while pulling all his possessions on a trailer through some of the harshest environments on Earth.
"I love going on these adventures and travelling, but it's these empty places that I think really attract me," Leon said.
"How often in life do we ever get to be somewhere where you can turn around in a complete circle and not see anything at all - just total emptiness.
"That's so rare and there's a real sense of liberation and quite a bit of terror as well in places like that."
Leon did film studies at university and graduated in 2008.
He said a lack of job opportunities in his chosen field helped infect him with the travelling bug.
"I had a regular job and saved up for about a year and set off to cycle around the world - that was my first big adventure, which sounds like a very grand thing to do, but really it's a lot cheaper than trying to live in a rented house in Belfast," he said.
He said as civilisation encroaches, the empty spaces he so loves are becoming rarer.
"The Gobi Desert is one of these places," he said.
"I've been to probably two places in my life including another desert called the Empty Quarter in Oman in the United Arab Emirates, and in those places I found vast empty spaces for days on end with nothing, not even the litter that you find everywhere else.
"I feel pretty lucky I've seen that, those places are dying out."
Leon admitted conditions could be demanding on his expeditions.
"It's not quite Bear Grylls survival - it's not quite as high adrenalin as that, it's low adrenalin survival," he said.
"It's taking all the supplies that I need, food and water and a trailer and a backpack."
For now, the Castlerock man is back at home, with his feet up enjoying "ice cream and pizza", but he's already planning his next adventure.
"I love these expeditions, they really make me feel fulfilled to go and do these things," he said.