More than 650 Northern Ireland primary schools face budget cuts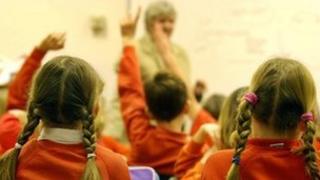 More than 650 primary schools in Northern Ireland are facing cuts to their income due to a redistribution of government finances.
The Department of Education is changing how money is allocated to schools, in an attempt to tackle deprivation by targeting funds at those most in need.
More than 160 schools are to benefit, especially those who have a lot of pupils entitled to free school meals.
The controversial move is due to be debated in the assembly on Tuesday.
Unionist politicians have complained that using free school meal entitlement as a deciding factor in who should get extra money is unfair.
Big winners
From a total of 832 primaries in Northern Ireland, the vast majority of schools in which budgets are being changed will find their income reduced.
The redistribution means that 669 primary schools are due to lose up to 4% of their budgets.
However, there will be some big winners, especially in Belfast, where some schools could get a budget increase of almost 15%.
Principals said the different treatments could cause anger and bitterness.
A group of primary schools in north County Down have protested at the changes, saying their budgets are already very tight.
Ralph Magee, principal of Andrews Memorial Primary School in Comber, said his school could lose £25,000 from its budget.
'Huge disparity'
He said: "Giving money is all very well, but how the money is spent and, particularly, how it is accounted for would be a concern. How are they going to measure success?
"There's already lots of evidence to suggest that there's huge disparity in schools that have already had lots of extra funding provided for them.
"I'm not here to argue against giving children from deprived areas extra funding. What I am arguing for is, why is it being taken from schools like ours whose budgets are extraordinarily stretched to the very breaking point," Mr Magee added.
"We can't afford to lose this and if the department needs to invest more money, well, they have to think about where they're getting it from."
One of the schools that is due to benefit significantly from the changes is St Peter's primary school in west Belfast, where 80% of pupils qualify for free school meals.
It is in line to receive a 14% increase in its budget, equating to just over £121,000 in extra funding.
'Aggrieved'
Principal Vincent Green said his school had lost out in the past, due to the way in which funding was allocated to schools, and the changes would correct an historic wrong.
"We in the past have been losers compared with nursery schools or secondary schools. We felt aggrieved about that but nothing could be done about it.
"So it's unfortunate that other schools are going to lose out, but obviously if free school meals are indicative of real deprivation, a school with 80% free school meals must be one of the highest in the area," Mr Green added.