Liam Adams trial: Ex-wife denies lying about abuse claim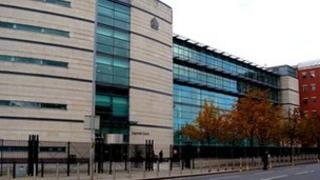 The mother of a woman allegedly raped and assaulted by her father more than 30 years ago has denied lying to a court in Belfast.
Sarah Campbell, 57, was giving evidence at the trial of her ex-husband, Liam Adams, 58, of Bernagh Drive in Belfast.
She also rejected claims that her daughter, Áine, had also lied about the alleged abuse.
Liam Adams is charged with ten offences against their daughter more than 30 years ago. He denies all charges.
Mr Adams, a brother of former West Belfast MP Gerry Adams, denies three charges of rape, three of gross indecency and four of indecent assault between March 1977 and March 1983.
Mrs Campbell was being cross-examined by a defence lawyer about her dealings, initially with social services, and then the police, when she rejected any suggestion that she had lied to the Crown Court and jury.
At one stage Mrs Campbell said that "there is somebody telling lies and I can assure you, I am under oath and it's not me, nor my daughter... I'm not telling lies".
Confront
Mrs Campbell went on to claim that the authorities, who were supposed to have helped, had instead "abandoned" them, and let her and her daughter down.
But for that her former husband would have "stood trial a long, long, long time ago" for making Áine's life "hell".
Earlier she had told the court of going to Buncrana in County Donegal with Áine and Gerry Adams to confront her former husband about the abuse allegations.
They had gone there in March 1987 shortly after mother and daughter had retracted the allegations from police.
Mrs Campbell told a prosecution lawyer that Gerry Adams confronted his brother privately while she and her daughter went for a walk on the beach.
She said that while her former husband denied the allegations, she again put them to him as they were about to drive back to Belfast.
"When I got into the car to go home, I turned round and said, 'you did that'. He put his head through the window and said, 'time will tell'," Mrs Campbell said.
Mrs Campbell also revealed that she had been having problems with her rebellious eldest daughter with whom she constantly argued. Home life, she said, "was a nightmare".
Police complaint
Then around Christmas time 1986, she said she was in the living room of their New Barnsley home in west Belfast, when, after another argument she heard noises on the stairs.
Something was pushed under the door... "it was a wee note, like a page out of a child's jotter", said Mrs Campbell.
"I picked up the note and read it. It said, 'Mummy this is why I am like this, because my daddy makes me sleep with him'. That was the first I found out what happened," she added.
She also told the prosecution that she and her daughter had withdrawn their police complaint after a health visitor advised her not to keep a further appointment with detectives who wanted to see her "in town".
She said she felt the police were more interested in her former husband and his friends and the area, rather than her daughter.
"My own thoughts, they weren't interest in what happened to my child, they were more interested in who was coming in the house and activities in the area... not interested in my child," she said.
She said Aine and her both decided "it wasn't the right time to... as it wasn't about us anymore".
At hearing.