Murder charges against husband and wife are dropped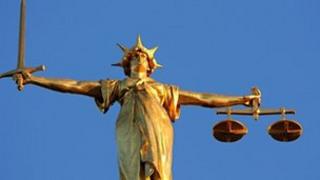 A husband and wife have had murder charges against them dropped.
Charles Valliday, 41, and his wife Julie-Ann, 36, originally from Powerscourt Place in Belfast but now with an address in Antrim, had been accused of killing Christopher Mackin in Belfast in March 2012.
The prosecution dropped the case after a review of papers and consultation with the director of the PPS.
A third person, James John Valliday, has also had related charges dropped.
Mr Mackin was killed when he was shot up to seven times at College Square North in the city.
Previous courts had heard allegations from an investigating officer that the husband and wife had "worked together" to lure Mr Mackin to his death.
They had also been charged with possessing a revolver and 51 bullets under suspicious circumstances, with further allegations of having heroin with intent to supply.
James John Valliday, 47, from Springfield Meadow in Belfast, had been charged with assisting offenders by buying petrol with a view to setting fire to a Renault Clio car that was allegedly used in the murder.
It is understood the case against the trio centred around circumstantial evidence involving CCTV footage, telecommunications evidence and swabs of cartridge discharge residue.
Last Friday at Belfast Crown Court, the prosecution consented to "no bill" applications lodged by the defence on behalf of Mr and Mrs Valliday. They said the police are still investigating the crime.
Accordingly, Mr Justice Weir dismissed the case against all three.
A PPS spokesperson said on Monday that their intention was to "recommence proceedings against all three individuals".