More than 3,000 protesters join loyalist parade in Belfast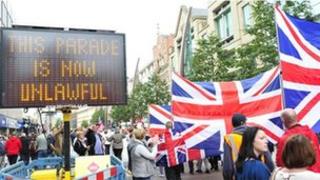 More than 3,000 protesters have taken part in a loyalist parade through Belfast.
Up to 1,000 people set off from the city hall at 13:30 BST on Saturday, in breach of a Parades Commission determination that the march should begin at 12:30 BST.
Police had warned the marchers that the delay made the parade unlawful.
It left the city centre without incident, heading towards Woodvale.
As the parade progressed through the Shankill area, more people joined in. Police estimated up to 3,000 loyalists were involved in the parade as it reached Woodvale shortly after 15:00 BST.
The march was organised by a group calling itself Loyal Peaceful Protesters.
At lunchtime, there was a heavy police presence in the city centre.
The group had applied to the Parades Commission to march from Belfast City Hall to Woodvale at 14:00 BST. But the commission ruled that the march should leave the city hall no later than 12:30 BST and pass out of the city centre by 13:00 BST.
Many people within loyalist communities were angered by the decision of Belfast City Council on 3 December 2012 to restrict the number of days on which the union flag is flown at the city hall.
In the months that followed the vote, they took to the streets to protest. Some of the demonstrations resulted in violence, with many police officers injured.
Major flags protests took place on Saturdays from December 2012 and into early 2013.