Alert in Markets area of south Belfast was hoax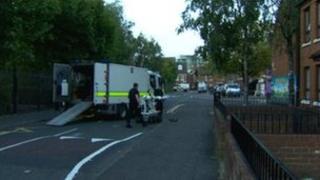 An alert in the Markets area of south Belfast has ended and been declared an elaborate hoax.
About 50 people had to leave their homes during the alert at Welsh Street which began on Friday afternoon.
Sinn Fein councillor Deirdre Hargey said the alert began after residents discovered what looked like a pipe bomb behind some houses.
However, the object was examined by Army bomb disposal experts and found to be a hoax.
Councillor Hargey said a nearby community centre had been made available to residents, but many of them had gone to stay with nearby family members.