SS Nomadic ticket changes likely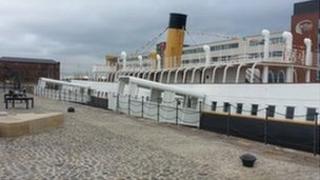 The operators of the SS Nomadic - one of Belfast's newest tourist attractions - are looking into changes in ticketing to help boost visitor numbers.
They may reduce admission prices for winter, but more crucially they aim to secure a joint ticketing deal with the Titanic Belfast signature tourism project next year.
Nomadic was built to ferry first and second class passengers to the Titanic.
It had 13,000 paying customers in its first three months.
The last remaining vessel of the White Star Line, it was opened to visitors this year on the Belfast docks where it was built and fitted out.
The chairman of the Nomadic Trust, Denis Rooney, said they were "on target" for first year projections, with 40,000 quoted as the break even figure at its opening at the end of May.
But he said reduced prices - £8.50 for an adult - are "under consideration", but no decision has been reached.
He added: "Any business has to consider what is appropriate to try and improve its footfall.
"Do not forget we are only open three-and-a-half months and are trying all sorts of things on the Nomadic."
A more longer term goal may be a joint ticketing arrangement with the nearby £100m Titanic Belfast signature project, discussions on which appear encouraging.
Titanic Belfast, where an adult ticket is £14.75, had 850,000 visitors during its first 12 months in operation.
Its chief executive Tim Husbands said: "Joint ticketing is an option currently under discussion between the two parties with a view to introducing such a scheme for the launch early next year."
The Nomadic was saved from the salvage yard and has undergone a £7m restoration programme.