Lughaidh Mac Giolla Bhrighde on having a form-busting name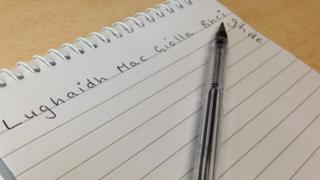 When Janice 'Lokelani' Keihanaikukauakahihuliheekahaunaele made headlines this week, her story struck a chord with one County Londonderry man.
The Hawaiian woman had waged a successful campaign for the state's authorities to change the format of their ID card and driving licence to accommodate her 36-letter and 19 syllable surname.
She said she launched the campaign because she was tired of being told to revert to her maiden name and fed up with her traditional Hawaiian name being viewed as 'mumbo-jumbo'.
Lughaidh Mac Giolla Bhrighde, from Maghera, who formerly used the surname McBride before deciding to revert to the Irish spelling of his name, sympathised with Mrs Keihanaikukauakahihuliheekahaunaele more than most.
Confusion
His 17 letter surname means he understands only too well the struggle to get a longer than average surname formally recognised by public administration bodies.
Filling in forms online is a frequent headache for Lughaidh as many computer systems will only accept the first 14 characters of his 19 character surname (including two spaces), while frequent mistakes in the spelling of his name have resulted in him being allocated five different national insurance numbers.
He told the BBC's Good Morning Ulster programme: "The name is three separate words but sometimes when I went to the job centre the name was hyphenated and other times two of the words were joined together.
"It might not sound like that much of a problem but then I kept getting letters saying that I hadn't made any pension contributions for the year."
Confusion arises not only from the length of his name, but also the lack of familiarity with the Irish spelling.
When Lughaidh went to register the births of his children he was initially told that the surname could not be registered, as it was not recognisable in English.
Identity
He also is routinely delivered post addressed to other Irish speakers and has, on occasion, opened letters containing sensitive information before realising that they were not for him.
"I just tend to get letters for anybody that has an Irish name or anything to do with Irish, even when they live miles away and the name doesn't even look similar," he said.
"On one occasion I accidentally opened and read someone else's medical test results before I realised what they were."
But despite these problems he has resolved to never change the spelling or return to the anglicised version of the name, McBride.
Comparing the situation to a woman taking her husband's name after marriage, he said: "When a woman marries she decides whether or not to take her husband's surname based on whether she wants it to become part of her identity.
"My name is something that defines me and that's how I want it to be spelled."
Any issues encountered by his children have been on a much smaller scale, and Lughaidh conceded that having an unusual name is becoming less of a problem.
"Over the past few years with so many new people and cultures coming in from the likes of eastern Europe and further afield, people are now more aware of unusual names or unusual spellings of names. As a result I find that I have a lot fewer difficulties now than in the past."
Nevertheless, despite this growing acceptance of their surname, one rather large problem remains for the Mac Giolla Bhrighde family: trying to order a takeaway over the phone is still a nightmare.