Máirtin Ó Muilleoir backs city hall Poppy Appeal lights plan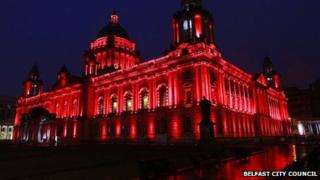 Belfast's Sinn Féin Lord Mayor is to back a Royal British Legion request to have the city hall bathed in red light for the launch of the Poppy Appeal.
First citizen Máirtin Ó Muilleoir said he agreed to the request in the interests of "building peace".
The move will be voted on later at a council committee meeting.
The building's recently-installed lighting means it can be illuminated with various colours on designated occasions.
If the strategic policy and resources committee votes in favour, the red lights will be switched on on 24 October.
The DUP's Gavin Robinson, Mr Ó Muilleoir's predecessor as lord mayor, is the chair of this committee.
If the proposal is agreed without discussion, it is likely to be passed by a full council meeting on 1 October.
'Common ground'
Mr Ó Muilleoir said he had been involved in discussions with the British Legion for six months before he became lord mayor.
"Their aim is the same as mine, to remember the dead of the great war, and the carnage and destruction that destroyed the cream of our manhood across this nation," he said.
"It's a request they made. It goes to the main committee today.
"My discussions with the British Legion and the Somme Association are continuing. We are looking at all these things in a bid to find common ground."
Lyn Palmer, the British Legion's NI district community fundraiser, said: "The decision has not been confirmed by city hall yet, but obviously if they are able to facilitate us in this way the Legion will be delighted."
The city council has previously agreed to a number of requests to light up the building for special occasions.
Mr Ó Muilleoir has said that he will not be wearing a poppy.
He was asked on BBC Radio Ulster's Talkback programme if he would be tempted to wear a poppy for his great grandfather, who served in the British Army and died training soldiers in WW1. He was given a military funeral on the Falls Road in west Belfast in 1916.
"No. I suppose as an Irish republican I'm not alone in the fact I have relatives who died in the Great War and obviously many relatives of other republicans who served in the British Army after that and I hope that we can show respect for the dead without having to wear a poppy," Mr Ó Muilleoir said.
"I know that it's something that I won't do, that I'm not able to do and therefore I need to say that in a way which is respectful.
"We need to set out some of the parameters and what I'm saying to those who want to unite our people around remembrance (is) 'well what else can we do? What else can we do that maybe helps to heal the hurt over remembrance and brings our people together?'
"So I suppose that makes it even...it's a bigger challenge because we need to make sure that what we don't do is we don't insult each other in how we remember the dead."