DUP councillor George Duddy's home targeted in second graffiti threat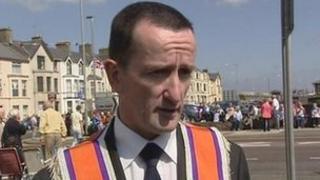 Threatening graffiti has been sprayed on the home of DUP councillor and leading Orangeman George Duddy for the second time in two months.
The threat was sprayed on the wall outside his house on Drumaquill Road, Coleraine, County Londonderry.
Police have said it happened between 22:20 BST and 22:40 BST on Thursday and they are treating it as a hate crime.
Last month, threatening graffiti was sprayed on the same wall and Mr Duddy's union flag was stolen from his garden.
He holds the title of Coleraine District Master in the Orange Order and is also a member of the town council.
'Sinister threat'
At the time of the previous attack on 11 August, police said they were treating it as a hate crime and the Orange Order said Mr Duddy was the fourth senior Orangemen whose home had been attacked over a three-week period in the area.
Speaking after the latest incident, the councillor said he viewed it as a "very serious and sinister threat".
However, he said he would not be intimidated out of his home by whoever was behind the attacks.
Mr Duddy added that he was committed to serving his constituents as a DUP councillor and was proud of his culture and role in the Orange Order.
Police visited the councillor's house on Thursday night to record the incident. They have appealed for anyone with information about the attacks to contact them.