Thousands enjoy Culture Night in Northern Ireland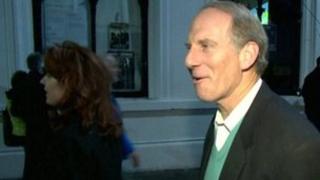 Thousands of people have been enjoying a free night of the arts around NI as part of Culture Night.
Armagh, Londonderry, Strabane and Holywood were among the places staging open-air cultural events.
The largest was in Belfast where 250 different events were held. Among the most unusual was Proms In the Car Park and a fruit and veg orchestra.
Multi-party talks chair Richard Haass and vice chair Meghan O'Sullivan were among those who watched some events.
Hundreds of tourists also joined the crowds which totalled up to an estimated 30,000 people.
A carnival procession left from city hall earlier in the evening.
It is the fifth year of the free event.