Castlederg parade a defining moment in difficult summer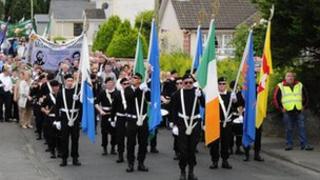 An IRA commemoration at Castlederg, County Tyrone, was one of the most controversial events of the summer.
It became a defining moment, in fact, as the DUP leader cited the event as a key factor in his unilateral decision to shelve the Maze peace project.
In his letter from America, Peter Robinson accused Sinn Fein of being trapped in a time-warp, encouraging dissidents and glorifying terrorism.
But others insist unionism has missed the point.
The Castlederg event, organised by Sinn Fein, was to remember IRA dead, in particular two members killed by their own bomb on their way to the town.
Angry unionists, backed by some victims and others, called the event insensitive and demanded the event be abandoned - or banned.
Instead, a message came from Sinn Fein's Gerry Kelly.
Once at the forefront of the IRA campaign, Mr Kelly declared to loud cheers that no unionist "no matter how loud they shout will prevent me or any other republican honouring our comrades who gave their lives in the struggle for Irish freedom and equality".
While unionism was on the lips of Sinn Fein, some claim the party's mind was elsewhere.
Historian Brian Feeney, author of Sinn Fein: A Hundred Violent Years, said the party was largely symptomatic of a battle inside republicanism for support, as well as ownership of the past, and the IRA.
He predicted that Sinn Fein, which has been so focussed on peace and the future, will hold more events to remember the IRA past.
"One of the reasons for that is because dissidents have captured a lot of the support on the ground in places like Tyrone," said Mr Feeney.
He added there was a lot of disenchantment on the ground, not just in Tyrone but in places such as Ardoyne and parts of the New Lodge in north Belfast.
He said dissidents in these areas feed off the discontent and make it more difficult for Sinn Fein to make more concessions in talks with Richard Haass this autumn.
'No passion anymore'
Mr Feeney claimed that Sinn Fein commemorations have been attracting fewer numbers compared to years ago. "There's no passion anymore," he said.
In fact some republicans, critical of Sinn Fein, claim the party became so concerned about the numbers it was attracting to commemorations and that the party moved its annual Tyrone commemoration for the IRA dead from Galbally, in previous years, to the more controversial location of Castlederg, in an attempt to draw a larger crowd.
Sinn Fein denies this.
Barry McElduff, MLA for West Tyrone, scoffed at the notion that Sinn Fein was trying to claw back grassroots support.
He told The View: "You are reading it wrongly if you are going down that path. Now Sinn Fein is losing support in County Tyrone? We have three MPs, have we seven MLAs?
"We are the largest party in all the district councils in County Tyrone and Sinn Fein is losing support in County Tyrone? I don't think so."
He was speaking after an IRA commemoration in Loughmacrory, County Tyrone. It was held on 1 September on a Sunday morning.
Sinn Fein organised the graveside oration, with Speaker Danny Morrison, as part of a weekend of events to mark the 25th anniversary of the SAS killing of three IRA members at Drumnakilly.
The event attracted around 70 people.
However, just a few hours later, several hundred republicans marched through Loughmacrory for a second commemoration organised by the Tyrone National Graves Association along with the families of the IRA dead, brothers Gerard and Martin Harte, and Brian Mullin.
This was a much larger commemoration. No Sinn Fein Fein assembly members were present, but among the crowd was a prominent Tyrone republican, Brian Arthurs, who no longer supports the party.
No republicans at the commemoration wanted to appear on camera.
One said she had been at the earlier commemoration as well but this doubling up seemed confined to a handful. Others criticised Sinn Fein, complaining of a failed strategy, that the party was too close to the DUP.
A former IRA hunger striker from Tyrone, Tommy McKearney, acknowledges Sinn Fein's continuing electoral strength and the likelihood it will continue despite republican disenchantment.
He suggests this is in part due to the lack of unity among republican factions. He claimed, however, there are growing pressures over power-sharing with the DUP, and polls suggesting Irish unity is further away than ever.
"There are a number of reasons for what Sinn Fein were doing at Castlederg," he told The View.
"Yes, there is a glance over their shoulder at their critics but having said that the DUP is putting down a marker.
"The DUP was largely responsible for the fracas over the flags protest. The DUP is putting down its old hardline ultra-unionist marker. And Sinn Fein does feel obliged naturally enough to assert its position, and claim the legitimacy... for the republican's past."
It is not clear if Sinn Fein was privately taken aback by the strength of opposition to the Castlederg march among unionists.
The party was certainly taken aback by the manner in which Peter Robinson, as first minister, and DUP leader, shelved the Maze peace centre.
This fractured a relationship between Mr Robinson and Martin McGuinness which was already strained by loyalist violence over flags and parading.
Loyalists turned on police in July over a ban on an Orange march in Ardoyne, and again in August, after several thousand republicans marched through Belfast to mark internment.
The internment march was not organised by Sinn Fein but by its critics.
Brian Feeney said some taunted Sinn Fein as the parade passed the Felon's club in Andersonstown, by singing a song about the Tricolour that the Provisional IRA used to sing to the Official IRA in the 1970s. "Take it down from the mast, you traitor."
Mr Feeney said: "The tricolours that are being flown in republican areas are being flown by people who are disenchanted... who are supporters of dissidents, but they are certainly not Sinn Fein."
Deputy First Minister Mr McGuinness is also known to be frustrated with the DUP leader's failure to stand shoulder to shoulder with him and condemn loyalist violence, just as he did when republicans attacked police.
That is a theme picked up by unionist Basil McCrea, leader of NI21, who has been engaging with Sinn Fein of late.
He said Sinn Fein is facing significant challenges and do not see unionist leaders facing down loyalist violence the way Mr McGuinness did when he called republicans who killed a police officer "traitors."
"I sense some frustration from the republican side... that when they look to leadership from the DUP and from the unionist side in seeing off their more hardline elements they don't see it coming."
It's into this atmosphere that talks chairman Richard Haass has walked.
Some say the American's success in getting a deal over issues such as parading and dealing with the past will depend on these leaders working to solve each others problems, rather than looking over their own shoulders.
The View is in BBC1 at 22:35 BST.