Nama inhibiting growth in Northern Ireland - Peter Robinson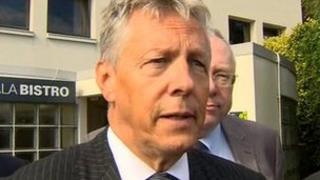 First Minister Peter Robinson has said the Republic of Ireland's 'bad bank,' Nama, is inhibiting economic growth in Northern Ireland.
Nama controls around £1bn of property loans originally made by Dublin-based banks to Northern Ireland customers.
Mr Robinson said it had on occasions helped to protect jobs and investment.
However, he added that its policy of holding on to properties for the long term "does little to boost our economy right now".
He added: "If these assets could be liberated then there is no doubt that they could play a major role in creating jobs in the construction sector and getting our economy moving."
He described Nama as part of "a triple whammy of obstacles to a real take-off in the economy".
He said the other obstacles were Northern Ireland's marginalisation in terms of banking and the drag on assets caught up by the Presbyterian Mutual Society unwinding process.
Until now Nama has largely avoided political criticism in Northern Ireland.
Former finance minister Sammy Wilson regularly praised the agency and on one occasion said "without Nama we might have had a catastrophe".
The agency has also made new loans to Northern Ireland developers of more than £120m.
This year alone it has released funds to complete new offices for the Northern Ireland Executive's Land and Property Agency in Belfast.
It has also been involved in the deal to sell the Invest NI HQ to the Executive and has released funds for a major housing scheme in Dundonald.
A spokesman for Nama said the agency would not be commenting.
Mr Robinson was addressing a DUP function in east Belfast where he also said that economic prosperity and "real peace" in Northern Ireland are interdependent.
He said the executive had taken action to limit the damage done by the global recession and to prepare for the onset of economic recovery.