Charity warning on child protection in Northern Ireland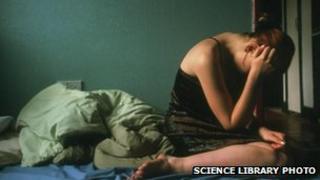 A charity has warned that issues surrounding missing and runaway children in NI are in danger of being lost amid political squabbling.
The warning comes as it emerged there was an attempt to introduce legislation to protect missing children three years ago but it never got off the ground.
In April 2010, the DUP's Michelle McIlveen attempted to introduce a private member's bill.
This would have specifically targeted missing and runaway children.
Charities including Barnardos were involved, but it fell at the last hurdle when both politics and budgets got in the way of progress.
A police investigation is under way into reports that 22 teenagers, missing from children's homes, were sexually exploited.
More than 30 people have been arrested as part of the investigation and a number of people have already appeared in court charged with sexual exploitation and other offences.
Documents seen by the BBC reveal that the focus of the private member's bill was on improving how information was recorded and shared specifically around those who went missing.
Vivian McConvey from Voice of Young People in Care (VOYPIC) said it was vital that the current process was not lost on further political squabbling.
"We're concerned about the focus of the discussion and where it's moved to - the blame game," she said.
"And what we're interested in is bringing that focus back to children and considering at this point the messages they're hearing over the airwaves and what they're reading.
"We need to consider what message is going out there and not have impact on the protection of these children."
According to sources, three years ago health officials had to choose between spending on accident and emergency care, or vulnerable children and adults.
When spending on the latter was shelved, so too was the private member's bill.
Ms McIlveen said she now regretted not sticking with the bill.
"They told me that this was not an issue and what I was proposing would criminalise young people in care," she said.
"However, what I found most distressing is that during this time of debate with senior departmental officials, children and young people were being abused and sexually exploited."
Earlier, the chair of Stormont's health committee said the health minister should take responsibility for not acting on a 2011 Barnardos report into the sexual exploitation of children.
Maeve McLaughlin said action should have been taken "much, much earlier".
But Health Minister Edwin Poots accused her of "misinformation".
He defended his department and said action had been taken to help vulnerable young people.
In a statement, the Department of Heath said a great deal of work had been undertaken following the publishing of the Barnados report.
"This work is in addition to a raft of other actions aimed at improving protections for children and young people in Northern Ireland over the last few years," it said.
"Continuous improvement is constantly being sought."
Team of experts
Meanwhile, PSNI Chief Constable Matt Baggott has told the justice committee that he favoured a review of police practice around child sex exploitation to be carried out by a team of experts.
Committee chairman Paul Givan wanted to know why there had been an eight-month delay between the publication of the Barnardos report and the start of a police investigation.
Assistant Chief Constable Mark Hamilton said the PSNI spoke to Barnardos when it was published but to his knowledge "the report wasn't designed to be an investigative starting point for the police".
"This wasn't a report that the police were blind or ignorant to," he said.
Mr Baggott said that historically the police had dealt with child abuse by "reacting to allegations" and that it was important that they looked at vulnerability and not just at allegations.
Mr Hamilton said the police focused their investigations on 22 children based on the number of times they had been reported missing from care.
He said that 18 of the children had gone missing 437 times.