The cure and other miraculous tales of Ireland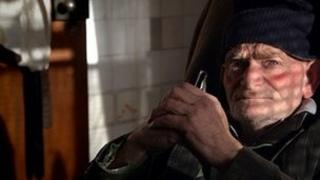 Mickey McGuigan lives with his brother in a forest swathed in the soft mist of ancient druid magic, somewhere near Forkhill in County Armagh.
That was where filmmaker Daniel Vernon came upon him and learned about Ireland's miracle makers.
In some parts of Ireland, if you have warts or backache or gout, you get what is known as "the cure".
Someone will direct you to a man or a woman who has it.
It is as common as going to see the doctor when you are ill.
The cure is a secret prayer and a set of actions handed down through generations in families. There is a reverence about it. A person who has 'the cure' has a special gift.
The idea fascinates Englishman Daniel almost as much as it fascinates Irishman Mickey. He is 73, a farmer and writer. He is a man in love with the land, with a face that has seen plenty and still wears the wonder of it all.
His home is an old stone house in the back end of the woods. It is battered, crumbling, with windows on the brink of breaking.
Perhaps Mickey himself is a relic of another life that is crumbling - one where the magic of a whispered prayer can rest easy alongside modern farming life, the old tractor tyre abandoned in the grass, a ragged curtain fluttering in the breeze of a farmhouse window and up to 100 channels on the HD television.
But even though "the television man" has come to the woods outside Forkhill, Mickey has not forgotten the old ways.
He hauls out a manual typewriter - £30 it cost him - and talks about the book he is writing about miracles.
Mickey is the lynchpin for Daniel Vernon's documentary. The Miraculous Tales of Mickey McGuigan is about the people of the borderlands and the old Irish beliefs - including the belief that a cure will rid a person of warts, or the croup or backache or toothache with a bit of spittle, or a hand held on the spot and a prayer.
"Seventy three years I've lived, through the bother of the north," said Mickey, "And my business is the miracle business."
He mixes tales of the "bad article (person) of a witch" that would "take your head off in the woods", with tales of the time "the English Army came with their helicopters".
He knows the people with the cure, he has them down in his book.
"Eamon McDermott has a cure for the ringworm in cattle," he said. "He spits on it, makes the sign of the cross on the ground and off it goes, like a flash.
"A woman with the shingles went to a man in Iniskeen. He went out and got clay that never saw sun and had no worms. He had to dig down for it. He put the clay on her head and told her to come back in three days. She got the cure,"
He lists the old Irish traditions - stories that trip off his tongue as easily as a catechism. For believers, family position is important for the gift of the cure to pass down through generations.
"If the seventh son of a seventh son is born in Ireland, you put a live worm in the heart of his hand and when the worm withers and dies, the child has the cure for everything - so the story goes," Mickey said.
"People will come for miles to get a cure. Mary Brady has a cure for the colic: She's better than any doctor," he said.
Her cure involves a string to "release the knot in the stomach" and a prayer.
In his documentary, Daniel Vernon also met Fr Noel Conlon, known as the healing priest who prays with people and offers them comfort. They come in their droves to see him.
He captured the Reverend John Purcell on celluloid, an evangelical preacher, born an Irish traveller and raised a Catholic. He is the eldest of 19 brothers and sisters. He shares his gift of tongues. He can hold an audience in the palm of his hand. He has fire in his belly.
Daniel Vernon's journey into the world of Irish cures is a magical one that is filmed with an artist's eye. His are portraits of a vanishing Ireland, a painting alight with country faces - farmers leaning over the gate at the mart - all dour faces and flat caps.
A plaster statue of the Virgin Mary sits on a windowsill, her head has fallen off and lies beside her blue gown. There are weeds blowing in the soft breeze in the fields and snow piles up around a Celtic stone cross in an Irish graveyard .
Daniel won a Bafta for his documentary, The Man who eats Badgers and other Strange Tales of Bodmin Moor.
From the English moor to the wilds of south Armagh, he understands the connection that farmers have with the land. When he went on his travels along the Irish borderland, he ended up with a phonebook of names of all those people with cures. It spoke to his heart.
"I avoided those who were doing it for money," he said. "It is so rare to find something so purely altruistic.
"A lot of people take on to perform a cure. It seems a really beautiful thing to give to a stranger, whether or not it works. Think of a gruff farmer who stops his day's work to take a phone call from a guy about his gout."
But it was Mickey who brought this documentary film together who became our guide into this other world.
"I hope I grow old like him with that feeling of contentment. He is happy with life, he does not want for anything," said Daniel.
Would the documentary maker seek a cure?
He has done and said it seemed to work. Like Mickey, he is on the fence on the issue... but believes the world is much richer place for people who have the cure.
"They certainly comfort people. That is the most important thing.
"If they are not taking money, what harm can it do? A lot of people are desperate for someone to put their arms around them and tell them it is going to be okay."