Orange Order rules out revisiting rejected parades body alternative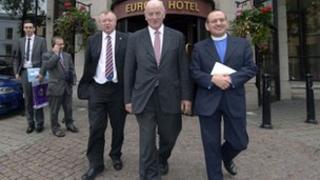 The Orange Order has appeared to a rule out revisiting a planned alternative to the Parades Commission.
The order rejected the alternative three years ago.
After meeting the US diplomat Richard Hass, the order's deputy Grand Master said the proposals, put forward by a Sinn Féin/DUP working group in 2010, were "too complicated."
And he said the search for an alternative to the Parades Commission would mean starting from "ground zero."
The Parades Commission was set up to rule on contentious parades in Northern Ireland.
The Rev Alistair Smyth said: "There were various reasons why those proposals did not go forward, including the whole complicated nature of them.
"Therefore with regard to what eventually does happen we are starting as it were from ground zero and building up to arrive at something that will be acceptable to our membership."
Mr Smyth again called for the removal of the Parades Commission saying it "must absolutely go."
He said the talks with Dr Haass had been "constructive" and concentrated solely on parades. They will have further meetings on the issues of flags and the past.