Jaroslaw Andrykiewicz's family arrive in Northern Ireland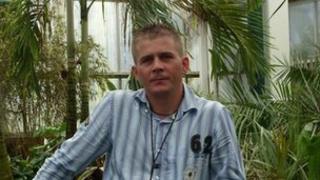 Relatives of a Polish man who went missing off the County Antrim coast have arrived in Northern Ireland as the search for his body continues.
Jaroslaw Andrykiewicz, 38, was swept out to sea while fishing at Ramore Head in Portrush on Saturday.
He had lived in Northern Ireland for six years and worked in County Armagh.
NI Honorary Polish Consul Jerome Mullen said Mr Andrykiewicz's family members are staying close to where he lived and are very anxious to find his body.
Mr Mullen met the missing man's mother and brother on Wednesday. He spoke to them with the help of a Polish priest, who acted as an interpreter.
Search suspended
The consul said the family has been given accommodation in Moy, County Tyrone, and are being comforted by members of the Polish community in the area.
They are also receiving help and support from Mr Andrykiewicz's employers.
Mr Mullen said they are highly distressed by the disappearance and are very anxious for the recovery operation to resume as soon as possible.
The search was suspended temporarily on Sunday, due to severe weather conditions off the north coast.
Police have said the recovery operation will resume "as soon as it is safe and practical to do so".
The missing man worked in Gilfresh Produce, a family-run vegetable production company in Loughall, County Armagh.
The firm's owner and general manager, William Gilpin, described him as an "outstanding employee" who had recently been promoted to a supervisory role.
Mr Gilpin's father, Thomas, collected Mr Andrykiewicz's mother and brother from the airport earlier this week and brought them to the company's premises, where they met some of his closest friends and colleagues.
'Terrible tragedy'
The firm also hired a minibus to take his family and friends to Portrush where they laid flowers.
The consul said Mr Andrykiewicz's friends had described him as a "fun-loving and optimistic" character who loved life, football and was passionate about fishing.
He was fishing with two Polish friends on rocks at Ramore Head when he disappeared.
Mr Mullen said it was a "terrible tragedy" and his companions were also highly distressed.
The consul said he was trying to assist the family by liaising with police during the recovery operation.