Poots faces criticism over handling of teen care abuse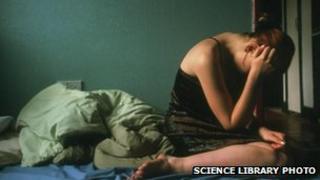 The health minister should take responsibility for not acting on a 2011 Barnardo's report into the sexual exploitation of children, the chair of Stormont's health committee has said.
Maeve McLaughlin said action should have been taken "much, much earlier".
She was speaking following news of a police investigation into reports that 22 teenagers, missing from children's homes, were sexually exploited.
But Health Minister Edwin Poots accused her of "misinformation".
He defended his department and said action had been taken to help vulnerable young people.
Mr Poots has urged social workers to speak out and is considering appointing an external expert to lead an independent review into the performance of social services.
"A whole series of things have happened since 2011. For Maeve McLaughlin to come out and give misinformation is incredible," he told BBC NI's Good Morning Ulster.
Mr Poots said a safeguarding board had been established a year ago, there had been a leafleting campaign and a helpline had been also been set up to support vulnerable young people.
Ms McLaughlin, a Sinn Féin MLA, said: "We need to have been doing all of this much, much better, much, much earlier."
"The department could have acted on five of six recommendations in the report.
"There are lessons for the PSNI, lessons for the minister for justice and certainly for the community at large.
"If we have a situation where 18 children involved in this horrific ordeal have left care facilities 427 times, then there is something wrong with our system, there is something wrong with our communities and society if this is not picked up."
Ms McLaughlin said one of the key actions recommended in the report was the development of a multi-agency action plan.
"We were only hearing at the joint committee this week that this was the start of that process," she said.
"I would make the point that whilst the Barnardo's report was published in 2011, the research dates back to 2009.
"I suggest it is too late ... We need to have been doing all of this much, much better, much, much earlier."
Mr Poots' DUP colleague Paul Givan, who is chair of the assembly justice committee, has called for the Justice Minister David Ford to initiate a similar review of how the criminal justice system performed.
More than 30 people have been arrested as part of a major investigation into the sexual exploitation of children and young people.
A number of people have already appeared in court charged with sexual exploitation and other offences.