PSNI recruitment drive 'a 35-year commitment'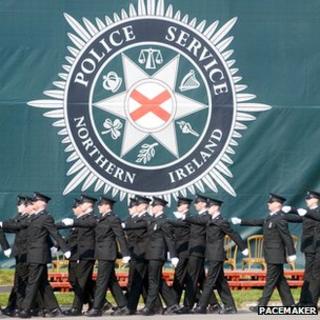 The last time new Police Service of Northern Ireland recruits took part in their traditional passing out parade was in March 2011.
Recruitment was halted at that time because of funding pressures, but senior commanders now say they have no option but to recruit to maintain "operational resilience". That is, to have enough officers to do the job.
There are currently around 6,900 police officers in Northern Ireland, but about 200 leave each year through retirement and other reasons.
That means the numbers will fall to around 6,500 within two years, and those who lead the PSNI say this would be unsustainable.
They point out that hundreds of mutual aid officers were brought in from other UK police forces in July to help police contentious parades in north and east Belfast.
Resilience
"Even with nearly 7,000 officers and support from our colleagues from Great Britain, we just about coped this summer," said one senior source.
"If the trouble we witnessed this year was repeated in the next few years, or got worse, we would struggle to cope if our numbers fall below the current level."
The Police Federation, which represents rank and file officers, has called for the recruitment of 1,000 new officers, but those who lead the PSNI say that is both unrealistic and unnecessary.
The PSNI has completed a review of resilience and capability, setting out its case for a new recruitment campaign.
The numbers are very precise, with the review stating that the PSNI believes it needs 6,953 officers to maintain resilience.
The plan is to recruit 100 new officers before the end of the current financial year in April 2014.
During the following financial year, it wants to recruit a further 378 officers.
That is a total of 478 new officers, but it will only be possible if the Department of Justice and the Stormont Executive can guarantee the necessary long-term funding will be in place.
'Business case'
Deputy Chief Constable Judith Gillespie said: "It is our hope, as we have made a very sound business case to our minister and the Northern Ireland Office, that we will be able to recruit back up to 7,000 in the very near future."
The PSNI says the overall cost of recruiting 100 new officers works out at around five million pounds per year, so 478 will cost nearly £25m.
Assistant Chief Constable Will Kerr said: "Recruitment is a 35-year commitment, not a short-term one.
"Police officers can't be made redundant, so someone recruited next year will be here until they retire, unless they leave for other reasons.
"For that reason we need to have certainty of funding before launching a recruitment drive."
The problem for the police is that money used to recruit more officers means less money to employ teachers and nurses.
That means the politicians at Stormont will have to decide on their priorities.
This is the first recruitment drive since the abolition of the 50-50 rule, which meant half of all new officers had to be Catholics.
'Outreach programme'
There are concerns that the proportion of Catholic officers could now decline, so the PSNI is to hold a series of events aimed at encouraging applications from Catholics, women, young people and those from areas of social deprivation.
"The 50-50 rule, whilst very controversial, was also very successful in attracting Catholic applicants to join the PSNI and we are now sitting at over 30% of Catholic officers," says Judith Gillespie.
"We want to maintain and indeed build on that success through this engagement and outreach programme.
"It will be across Northern Ireland, focused in particular in the west, in Fermanagh, and Londonderry/Derry."
New recruits will start on a salary of just over £23,000. They must have five GCSEs at grades A* to C or equivalent, and a recognised IT qualification.