Cat owner draws up 'purrfect' plea for help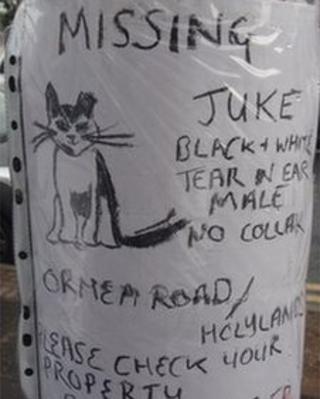 A Belfast woman is drawing on her sketching skills to help find her missing moggie.
Juke, a tomcat, has been missing from the Holylands area of south Belfast for at least nine days.
In a desperate bid to find him, owner Stephanie Keown put up a 'missing' poster on the Ormeau Road.
But without a photograph of her feline friend, she tried to come up with a 'purrfect' picture of him herself.
"Both my sisters are artists and I enjoy art and drawing, so I thought I'd draw a picture of him," she said.
Described as black and white, with a tear in his ear, and no collar, the poster appeals for anybody who may have seen her pet on the prowl.
Stephanie has had Juke for about a year and is desperate for information on his whereabouts.
However, she does not think it is a cat-astrophe that she did not have a photograph of her pet.
"I'm happy enough with the picture that I've drawn," she said.
"It looks quite like him and I've described his features quite well, so I'm hoping that someone will see a cat hanging around and recognise him from the picture and description."
She said Juke has a white chest with a large, black patch on his belly, like a "care bear".
He has what his owner has described as a "broken ear", is slick-furred and is quite lanky and muscular.
Stephanie's desire is that Juke should be reunited at home with his sister, Looly and she is looking for a 'pawsitive' outcome.
But so far, no one has let the cat out of the bag about Juke's location.
"I am worried he has been knocked over, or stuck in a shed or that someone has taken him in because he is quite a friendly cat," Stephanie said.
"He usually comes back to be fed, so this is not like him."