West Belfast man Liam Adams denies raping his daughter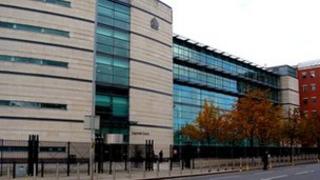 A man has appeared at Belfast's Crown Court on charges of rape, indecent assault and gross indecency against his daughter.
Liam Dominic Adams, 58, from Bernagh Drive in west Belfast denies ten charges of abusing his daughter, Áine Adams, who is now 40 years old.
In video evidence played to the jury, it emerged that Liam Adams is the brother of former MP Gerry Adams.
Áine Adams has waived her right to anonymity.
It is alleged the offences date back to 1977 to 1983, when she was aged between four and nine years old.
At the trial, the jury was shown a video of an interview that Ms Adams conducted with police in 2006 describing the alleged abuse.
During an exchange with a police officer in that interview, it emerged that her father, Liam Adams, was a brother, as the police put it at that stage, of "Gerry Adams, the MP".
She gave evidence under cross-examination, and spoke of wanting to confront her father.
It emerged that on one occasion in Donegal in 1987, Gerry Adams accompanied her and her mother to do this.
The jury also heard from the tape that Áine and her mother had reported the alleged abuse to the police, but that the complaint was retracted.
She said this was because the police seemed more interested in her father and uncle.
Later under cross-examination from a defence lawyer, Áine accepted that she did not report fears that her young step-sister could become a victim until up to a year later, when she first told her mother in a note.
The lawyer put it to her that when she and her mother had gone to the police in February 1987, she had not told them everything she claimed had happened to her and "deliberately did not start the narrative (of her abuse) until two years later" in 1979.
Áine Adams said: "I thought I was doing the right thing." She earlier said she was only 13 at the time and felt embarrassed to be talking about this in front of her mother and policemen, adding that she had felt she had only to report that she had been abused.
The defence lawyer suggested that she had not told them everything, despite her description of them being "vivid memories", was that "they did not happen at all".
"I can assure you that they did," said Ms Adams.
Liam Adams denies all the charges against him.
The trial is expected to last two weeks.