NI village to teach 'safety' lessons to children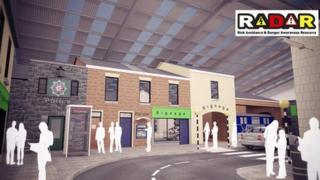 Northern Ireland is to get its first state-of-the art village built to teach safety to young people.
The facility in east Belfast will feature a road crossing, police station, court room, dark alleyway, farm scenario and park scene.
Three new jobs and 20 part-time jobs will be created at the Harbour Court complex.
The village will provide interactive safety-focused experiences for children and young people up to the age of 24.
Key issues of personal safety are covered along with vandalism, drugs and alcohol, the consequences of crime, anti-social behaviour, environmental responsibilities and what to do in an emergency.
Primary Six and Primary Seven children will experience dangerous situations and scenarios within a risk free environment.
They will have an opportunity to learn ways in which everyday hazards can be prevented, avoided or managed.
Young adults between the ages of 16 and 24 year will be able to explore issues around personal safety and social responsibility along with an insight into the consequence of actions.
RADAR is the result of a multi agency partnership headed up by the Police Service of Northern Ireland and the Northern Ireland Fire & Rescue Service.
Environment Minister Mark H Durkan announced planning permission for the facility saying it would "play a vital role" in the safety of children.
"RADAR will become a crucial resource where children and young people will be taught vital life skills that will remain with them throughout their lives," he said.
"I am particularly passionate about this scheme as it promotes strategies that help children and young people deal with emergency and dangerous situations in a safe and secure environment."
Fifteen such centres exist within the UK, primarily concerned with working with children and young people within the age ranges of 10-11 years and 16-24.