Second north coast whale dies in week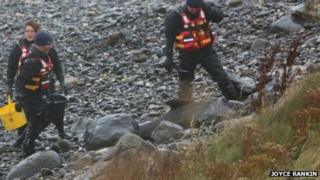 A second whale has been found dead along the north coast after it became stranded near Portballintrae, County Antrim.
The Department of the Environment was monitoring the young pilot whale, which had been swimming in Portballintrae bay for almost two weeks.
The whale was separated from its mother and was unable to fend for itself.
On Saturday, a juvenile Sei whale, which was about nine metres long, died on a beach near Waterfoot.
A DOE spokesperson said they had been monitoring the whale closely from the shore and by boat.
"High resolution photos had clearly shown that the animal was an un-weaned calf, separated from its mother and severely emaciated," they said.
"Regrettably for this animal, given that it would be fully dependent on its mother at such an early stage in its life, the inevitable conclusion was that the animal would be unable to survive alone."
On Monday, the animal became stranded near Portballintrae Bay and had to be put down.