New £4m clinical research centre opens in Belfast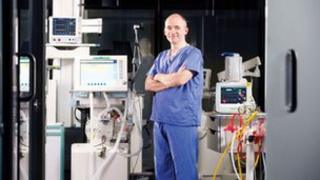 A new £4m medical research centre in Belfast will allow more people than ever before to take part in clinical trials in Northern Ireland.
It will also benefit patients with rare conditions who previously had to travel to England to participate in trials.
The centre opens later on Wednesday and will be based at Belfast City Hospital.
It will concentrate on four main areas; cancer, nutrition and metabolism, vision science and respiratory research.
The facility is a joint venture between Queen's University Belfast, the Belfast Health and Social Care Trust, the University of Ulster, and Health and Social Care Research and Development (HSC R&D), a division of the Public Health Agency (PHA).
It will be called The Wellcome Trust-Wolfson Foundation Northern Ireland Clinical Research Facility (NICRF).
Health Minister Edwin Poots said: "This new state-of-the-art facility is an important element of Northern Ireland's health research infrastructure and will enhance our ability to produce valuable, usable results.
"Research, development and innovation are essential for modern healthcare systems so we can advance the quality of our services, whether in disease prevention, diagnosis or treatment. Research also provides vital knowledge that can improve the cost-effectiveness and value for money of our health services."
'Important discoveries'
A number of programmes are already under way. These include studies on asthma, cystic fibrosis, cardiovascular conditions, including stroke, and rare genetic conditions.
Prof Danny McAuley from Queen's Centre for Infection and Immunity, and acting director of NICRF, said: "Researchers throughout Northern Ireland are making some of the most important scientific discoveries in the world today.
"Until the NICRF there was no dedicated area with such an array of specialist equipment to support clinical research in Northern Ireland.
"Now, we will be able to translate laboratory discoveries into advances in patient care."
Aidan Kearney, a patient with the rare genetic condition Morquio syndrome, has already been treated at the centre.
He said: "Already the NICRF is having a positive impact to my life. I now don't have to go outside of Northern Ireland for my treatment and that means it takes much less time.
"I'm not tired from the travelling and I also now have the reassurance that the location and staff treating me will be the same every time. It has made a real difference to me."
Colm Donaghy, chief executive, Belfast Health and Social Care Trust, added: "Having this facility in Belfast City Hospital means we will see more patients enrolling in clinical trials.
"They will learn more about their diseases and as a result help to define how we go about treating them."