Inquiry: Child abuse suspects not known to police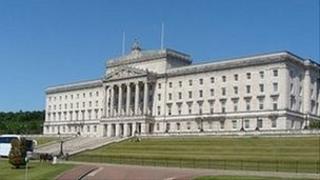 The main suspects in a major inquiry into sexual exploitation of young people were not previously known to police, a Stormont committee has heard.
More than 30 people across Northern Ireland have been arrested as part of the investigation involving 22 young people who may have been abused.
The joint health and justice committee was hearing evidence from police and health experts on the issue.
The committee heard that suspects were mainly young men in their early 20s.
Police are reviewing cases where young people have gone missing from the care system over the past 18 months.
Of the 22 alleged victims, some were not living within the care system at the time of the suspected offences.
Dr Helen Beckett said that while the figure of 22 was shocking, Barnardos children's charity was working with about 60 young people.
'Grooming'
She said that in most cases, sexual exploitation was mainly carried out by strangers although sometimes family members were involved.
It was very rare for a young person to report the abuse, which was usually spotted by a professional, a parent or a friend, she said.
The committee was told that "grooming" of young people could take place over a very long time. They were provided by their abusers with alcohol, drugs or presents and then made to pay "the debt" with sexual acts.
Assistant Chief Constable Mark Hamilton said the police investigation began in June 2012.
"This inquiry will spread as we identify more risks or as we identify more people we want to look at," he said.
Asked if there had been examples of "internal trafficking", he said: "We have some evidence of children being put in a taxi and sent to another town for the purposes of attending a party or meeting other people.
"That for us, that has the hallmarks of trafficking."