Gunshots killed Glenarm men Arthur Gibson and Michael Murphy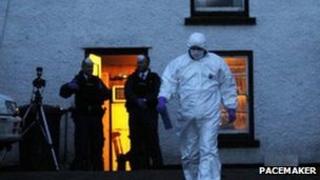 The two men found dead on a farm in Glenarm in County Antrim died from gunshot wounds, a post-mortem examination has revealed.
Arthur Gibson, 61, and Michael Murphy, 37, were found dead at Mr Gibson's farm on the Feystown Road on Friday night.
It is understood Mr Murphy, a farm worker, shot his employer before turning the gun on himself.
Their funerals are due to take place later this week. Police are not looking for anyone else over the deaths.
A gun was recovered from the scene. Mr Gibson lived alone on the farm.
Mr Murphy worked for him. He lived in Glenarm village with his partner and four children.
Shock
Stephen Montgomery, a neighbour of Mr Gibson, said: "Art, obviously a very close neighbour of ours, was very well respected in the farming community for his knowledge of farming and has done a lot of work in the area, to the grounds and stuff.
"It's just a shock, it's a real tragedy for the village.
"I did know both men, Michael's children go to the school where my wife works and Art would be back and forward all the time around the farm - he's a good neighbour."
Mr Murphy's funeral will take place on Tuesday at the Church of the Immaculate Conception in Glenarm. Mr Gibson's funeral will take place the following day at the same church.