Weather halts search for man missing from Ramore Head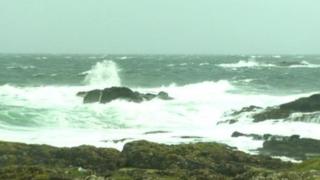 The search for a man who was swept out to sea at Ramore Head in Portrush on Saturday has been called off for the day because of the weather.
The police and coastguard operation had resumed on Sunday morning amid difficult weather and sea conditions.
It is understood the 38-year-old is a Polish national and the incident happened as he walked across rocks after a fishing trip with two friends.
Police said storm force winds had made search conditions too dangerous.
"The conditions will be continuously reviewed with a view to recommencing the search as soon as it is safe and practical to do so," a spokesperson said.
"Police remind members of the public not to attempt to carry out any independent searches.
"There is a very real risk to life in untrained and inexperienced individuals attempting to undertake this type of work particularly in the midst of severe weather conditions."
A search involving Portrush lifeboats, Coleraine and Ballycastle coastguard teams, a police helicopter and an Irish coastguard helicopter, was called off at 20:00 BST on Saturday due to poor light.
It resumed on Sunday morning in conditions made difficult by gale force winds and very rough seas.
Earlier, teams walked along the shoreline and searched nearby islands, but the man was not found.
An RNLI all-weather lifeboat searched the area where it is thought it would be most likely someone in the water would be found.
Meanwhile, a 45-year-old man remains in a critical condition after being rescued from the water off nearby Portstewart on Saturday evening.
The Irish coastguard helicopter winched the man to safety and he was taken to the Causeway Hospital in Coleraine.
He had been reported in the water shortly after 18:00 BST.
Chris Little, of Coleraine Coastguard, said both incidents "serve as a timely reminder that sea conditions around here can be very unpredictable, the swell can rise very suddenly".
He added: "Being anywhere near rocks in those conditions is very dangerous.
"We would always recommend that anyone fishing from rocks should wear a lifejacket."
Mr Little said the weather had deteriorated as the search progressed.
"We are now experiencing gusts of wind up to storm force where it is almost impossible for our teams even to stand on rocks," he said.
"But the area has been thoroughly searched, as the tide rises here conditions are going to become even more dangerous."