DUP and SF ministers address contentious issues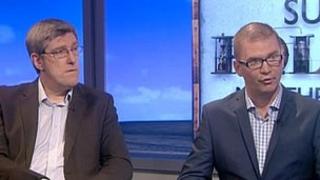 The finance and education ministers have spoken about hopes to resolve a number of contentious issues their parties disagree on.
They were speaking ahead of the all-party talks, chaired by the US diplomat Richard Haass.
Speaking on the BBC's Sunday Politics, Simon Hamilton said his party, the DUP, had to work with Sinn Fein despite their differences.
Sinn Féin's John O'Dowd said significant challenges existed.
He said the first minister's decision to stall the Maze Peace Centre had not helped relations.
Peter Robinson publicly blamed Sinn Féin's backing for a Castlederg parade commemorating dead IRA members for his decision on the Maze.
Mr O'Dowd said he believed his party colleague and deputy first minister, Martin McGuiness, had been right to not let disagreements over the matter overshadow the leaders' recent economic mission to New York.
"I think Martin adopted the correct strategy in America by ensuring that there was a united front shown to investors out there," Mr O'Dowd said.
"There's going to have to be more than one meeting to resolve the issues around, not only the break of agreement around the peace centre, but also how it was handled and how a partner in government handled the relationship with another partner in government."
Mr Hamilton said his party had done lots of things over the last number of years which it had not been "immediately comfortable with".
"Indeed, working with Sinn Féin itself is not something we want to do naturally," he said.
"We are in a forced coalition where we have to work together, but just because we have those differences of opinion - be it on the past, on flags, on emblems, on how we deal with victims - doesn't mean that we can't do our best to work together to try to resolve what we can resolve and try to build the sort of Northern Ireland that everybody wants."
The all-party talks on flags, parades and the past, which will be chaired by Mr Haass, are due to begin in Belfast on Tuesday.
They will aim to tackle some of the most divisive issues still facing people in Northern Ireland 15 years after the Good Friday Agreement.
The diplomat was called in after a difficult year which saw violent street protests linked to the union flag dispute, increased tensions over parades and controversy over the proposed peace centre at the site of the former Maze Prison.